Our freshwater turtles are in trouble. Across the Gulf plains, feral pig numbers are rising. They're eating turtles in our floodplains and wetlands. Sadly, turtles are easy prey, most vulnerable when they burrow into the sand and lay dormant to escape long hot and dry spells.
Tagalaka Traditional Owners alerted us to this serious problem. Freshwater turtles are an important part of their culture and traditional diet. Eight freshwater turtle species live in the Gulf plains, but there's very little data on their numbers and distribution. Studies elsewhere suggest pig predation is a major problem. Reports from local Indigenous communities support those findings.
One northern Australia study found feral pig predation of radio-tracked turtles during burrowing, known as aestivation, was an alarming 96 per cent. Pig numbers rise every year. Freshwater turtles may not survive in some of their habitats and range without protection measures and pig exclusion.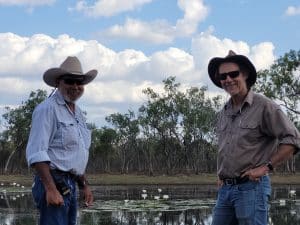 Our Indigenous Engagement officer, Natarsha Bell, said turtles are central to culture in the Gulf region. "Turtles are a big part of the songlines, the storylines, of Traditional Owners here. If we lose our turtles, if we lose this storyline, we lose our connectedness to this place. It's important for us to maintain the cultural significance of our turtles."
Gulf Savannah NRM was recently awarded a small grant from the Wettenhall Environment Trust for two field visits on Tagalaka and Ewamian country, to survey the extent of pig damage on two wetland areas and consult Traditional Owners on the issue.
Freshwater ecologist Jim Tait said there were many signs of pig activity in turtle habitats. "Feral pigs are emerging as a key driver of impacts on the wetland vegetation and the species that live in it. We're very concerned about direct predation of turtles by feral pigs. So we're working in the Gulf Savannah region to develop partnerships with Traditional Owners, with landholders and stakeholders, to come up with some improved management arrangements to reduce the impact of pigs on this important wetland resource."
There's almost no effort or funding to address the problem in our region. Sea turtles rightly get a lot of attention, but freshwater turtles have not yet achieved a high profile, particularly in remote areas.
Videographer Wayne Derksen documented the visits to raise awareness of the plight of Gulf region freshwater turtles. Look out for his film on our YouTube channel.
Gulf Savannah NRM thanks the Tagalaka Aboriginal Corporation and Ewamian Aboriginal Corporation for partnering with us on this project, and the Wettenhall Environment Trust for seed funding.